Cartoons ~ The Wolf (GI Wolf)
The Wolf
(also known as
GI Wolf
* and
Pvt. Wolf
(
Private Wolf
), created while Sansone was stationed at Fort Belvoir, appeared in
DUCK BOARD
. It was so popular that Sansone was transferred to CNS (Camp Newspaper Services in NYC until the end of the war.
The Wolf appeared in over 3000 publications, articles and features. The Wolf grew in notoriety after Sansone was in featured in a LIFE Magazine article in 1944. The Wolf book was published in 1945.
*GI and Pvt are US Army rank abbreviations for members of the US armed forces.
The Wolf
cartoon was often labeled or identified with the same or current rank as its creator Leonard Sansone from
GI Wolf
– a member of the US armed forces or
Pvt Wolf
– the first rank. Leonard Sansone's ranks progressed to CPL (corporal) and SGT (staff sergeant).
The Wolf cartoon is a single panel cartoon (usually with a gag line) that was featured during WWII in hundreds of publications from 1942 to 1945.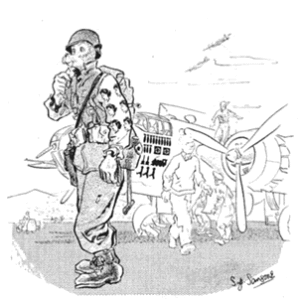 After the war ended, Sansone's Wolf cartoon took on civilian life and continued for several more years under the name Wallie a civilian with a few wolfish characteristics who also chased the ladies. Wallie and The Wolf were both retired when Sansone had moved to Miami and created his new cartoon feature "Willie," a family friendly cartoon strip. (see: The Miami Years).
 See also:
The Wolf (GI Wolf)